On NetBet Casino, there are many categories to differentiate between separate types of games. These include: New games, most popular, progressive jackpot, roulette, slots, video poker, blackjack, poker games, other games, live dealers and NetBet selection. It is the last one of those that particularly stands out, as it is basically a recommended page from those who work for NetBet as to what games are worth playing. So if you're new to the site and want to be guided as to where the best games are, and what they are, this is the place for you. Here I will look at a couple of those games recommended that stand out for me, and why they need to be tried out when playing on NetBet Casino – one of the most successful websites for online Casino anywhere.
European Roulette: This Casino classic is mentioned on the NetBet selection, and personally, it is the one game you simply have to play when you visit the website. The rules are easy to grasp for new players, and if you're still stuck, there is a rules book that is clear and descriptive. All you need to do is decide a stake, bet on a range of different categories as to what the number will fall on. That could be specific number, what colour, whether odds or even etc. Once that's decided, click spin (the domineering green icon at the bottom of the screen), and hope you've predicted correctly. If you have, depending on what you predicted, you'll win some generous paytables. This really is a classic on any Casino anywhere, however NetBet's version is outstanding and it is one of the most popular games on their network. For new players looking to see how much fun can be have on online Casino, start with playing European Roulette. A money free demo option allows players to find their feet, and once they do, they know exactly why so many Casino players enjoy playing it.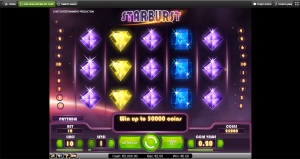 Starburst: The game that shares its title with a chewy flavoured sweet brand is a popular one on the online Casino world as well as high street newsagents. Players are asked to play bet lines ranging from one to ten, and each one can be at a different coin level. Like the constant theme across NetBet Casino, free giveaways are available in-play. These come via the wild symbols tumbling down to reels two, three or four; and these activate up to three free re-spins. The pay tables are accessible in-play, all the player needs to do is click on the relevant icon and the winnings on offer for that one appear in a small window. The graphics are sparkly and bright, and if you're too busy to enjoy them, you can turn on the auto play feature to give control to the computer. However, they will only play to the settings you limited it to; and as such not spending all your coins without your permission!
Anyway, there are many games on NetBet selection that are worth a try, but these two are the ones that stand out for me. I'm off to play them now, care to join?