Experience The Magic Of Winning With Wild Wizards!

For a very long time now, wizards have been captured vividly through different representations by story tellers, people, filmmakers, writers and game developers among others. And you could use some magic at some point in your life, whether it is hoping that the magic will help you win some cash or just playing casino games online for free.
Wild Wizards is a 5-reel and 25-payline casino game which offers both options. You can even visit websites that offer you the opportunity to play Wild Wizards simply just for fun without betting on it. Of course while you explore the video slot games, you can even discover many other slot games that come with bonus rounds. However, if magic happens to be your thing, then Wild Wizards can create that perfect atmosphere for you to win and also enjoy your spins. Here are tips if you want to experience the magic of winning with Wild Wizards:
Understanding the game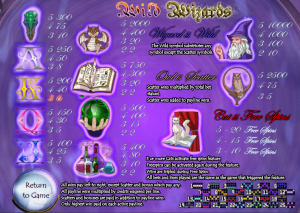 You can put down bets which vary between $0.01 and $0.10. You may want to place a maximum of ten coins per line so as to get a better range of higher betting amounts such as up to $25 per spin. Although this type of betting option can suit low bet players, it may not seem like a lot especially if you consider the maximum jackpot as $10,000. However, different players have different betting strategies, so you can follow your instincts.
Note that the Wizard is actually a wild symbol and can take the place of all other symbols except the scatters to improve chances of winning. The other thing you need to know is that there are two types of scatters. The first one is the cat which starts the free spins and the other is the owl which rewards a player with scatter payouts. You get twenty, fifteen or ten spins for five, four or three cats. Also, the free spins will come with 3x multipliers.
Wild Wizards controls
The controls for this game are the typical controls for most slot games. You need to set the bet with the bet controls and also set the number of lines to play on. The other thing is to use the spin button so as to lock your bet as well as line selections. The final thing is to start the reels. You can also click the Auto play button if you want some more magical awesomeness.
Wild Wizards rules
Do you want to follow the footsteps of some of the greatest wizards? Then you should have discipline! Not only should you know the rules, it is also very important that you keep them close. This way, you will become a wiser and stronger wizard. And because the rules of the game are quite simple, they should not be hard to keep. You will find that Wild Wizard symbols can be added and even held during the game. Follow all the rules to make you the richest wizard ever. Wild Wizards gives you a great chance to observe magical earnings all over the reels. Indeed, this game is a bout of magical and unusual winning that is seldom seen in other slot games!